Transport
As Farrer is located about 10kms from Tamworth CBD, the school has its own fleet of buses and transports students to & from town as required for educational, sporting or medical purposes. The cost of this transport is covered by the Day Students Transport & Facilities Levy but is included in the Boarding Fees for Boarding Students.
For Day Students, school travel passes can be used for free travel to and from school or TAFE. Depending on where you are travelling, you may receive a free school travel pass, School Opal card or both. For details and to apply for a school travel pass refer to the NSW Transport website.
For Boarding Students, a number of concessions are available through Transport NSW.
Boarding Students should refer to the NSW Trainlink School Student Transport Scheme Coach Timetable for transport for boarders to/from home on Leave Weekends and Holidays.
With a Boarder Rail Pass, boarding school students can travel free of charge on regular timetabled rail/coach services for visits to and from home on weekends or during holiday periods when space is available.
Apply for a boarder rail pass. Importantly, please ensure you send the completed form TO FARRER, and not direct to Transport NSW. Once verified by the school, the student will be issued with a Boarder Rail Pass, as per example below.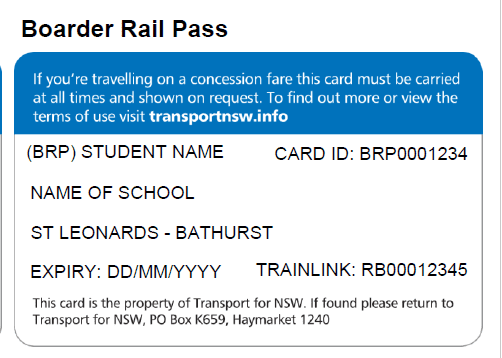 Boarding parents who drive their son to boarding school where there is limited or no public transport available may be eligible for a School Drive Subsidy. Applications and details are available here.

For any enquiries about school travel, please contact our Admin Office on 6764 8600.